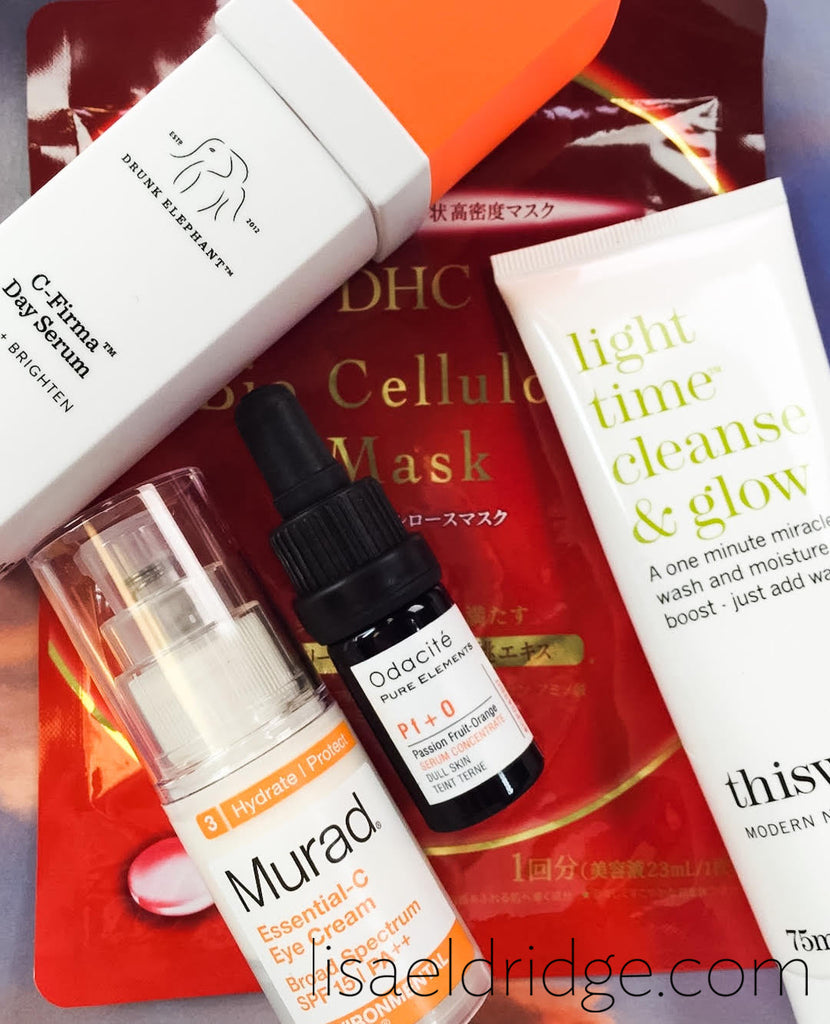 C For Clarity - Why Vitamin C is Your Skin's Best Friend
As someone with a history of pigmentation and skin prone to uneven texture, I'm regularly on the lookout for products with brightening benefits that I can incorporate into my regime. There are lots of skincare ingredients that are thought to be effective skin brighteners - one of the best known, well-researched, and arguably most effective non-prescription actives is Vitamin C. As well as being the immunity booster you reach for when you need to kick a cold, applied topically, it's brilliantly brightening with a lightening effect on all kinds of pigmentation (think sun spots to post-acne red marks). It's also fantastic for dull, congested complexions as it can reduce inflammation and increase cell turnover to slough off dead skin cells, helping to bring back a healthy luminosity.
As it's a potent antioxidant, Vitamin C also supports your skin's ability to neutralise free radical damage. In short, free radicals - produced by external aggressors such as pollution, smoke and UV - steal electrons from collagen strands, creating a tiny break. The more breaks, the more sagging and wrinkles become visible on the skin's surface. Vitamin C acts like an electron donor - it seals up the break, which in turn firms skin and boosts collagen production. So in theory applying Vitamin C, alongside other antioxidant-rich skincare, can help to prevent and repair signs of ageing and, when layered underneath your SPF in the morning, is like an added layer of defence against UVA (a huge catalyst for damage and pigmentation).
The downside of Vitamin C is that it's very volatile, so when you're scanning the ingredients look out for formulas that team Vitamin C (also listed as ascorbic acid, magnesium ascorbyl phosphate, tetrahexyldecyl ascorbate, ascorbyl palmitate, ascorbyl glucosamine and ascorbyl tetraisopalmitate) with another antioxidant such as tocopherol (Vitamin E) or ferulic acid (or both), as these help to stabilise and enhance the effectiveness of Vitamin C. Brown glass or opaque packaging is also thought to keep Vitamin C stable (at home, store away from bright daylight), as well as air-restrictive bottles.
There are lots of skincare products that contain decent levels of Vitamin C - here are some old loves and new finds from the #HouseofEldridge that me and my team have been testing…
The Serum - Drunk Elephant C-Firma Day Serum

This serum caught my eye as it's got a similar formula to SkinCeuticals' C E Ferulic which I've used on and off for years (but is half the price, around $80 to SkinCeuticals' $160). As well as the 'gold standard' trio of Vitamin C ingredients - ascorbic acid, tocopherol and ferulic acid - it contains licorice root (another skin brightener), pumpkin and pomegranate enzymes (exfoliating) and moisturisers like glycerin, hyaluronic acid and marula oil. I asked one of my dry and sensitive-skinned #HouseofEldridge girls to try it and she found that using three times a week didn't cause any reaction (and no stinging on application) and, after a couple of weeks, it had helped to fade some stubborn post-breakout marks around her chin. She layered moisturiser and SPF over the top, but if you're more oily/combination you might find that the added hydrators mean you can go straight to SPF. Although it's called a day serum, there's no reason why you can't use it at night (as long as you still remember your sunscreen the next morning). It's fragrance free but has a bit of a woody/earthy scent which I personally quite like - if you don't, don't worry as it doesn't linger on skin. Available here.
The Mask - DHC Bio-Cellulose Masks
I love sheet masks and always have these ones in my kit as they're good for all skin types. Alongside Vitamin C (stabilised by Vitamin E) is a moisture-rich concoction of coconut water, glycerin and hyaluronic acid to give skin a high dose of hydration in about 20 minutes - perfect before a party or big event when you want to plump up quickly. The bio-cellulose also feels gorgeously cooling and helps to pep up tired/jet lagged skin. Once you remove the mask you can tissue off any excess or, if your skin is drier (and you're not going to apply makeup on top, which could cause 'pilling'), pat it into your skin. If there's any liquid left in the sachet, squeeze it into a pot and use it as a serum over the next few days. Available here.
The Cleanser - This Works Light Time Cleanse & Glow
I talked about this cleanser in my Morning… To Cleanse or Not To Cleanse? video and I'm still loving it - I tend to chop and change my cleansers a lot but this has been a mainstay at my sink! It's a lightweight balm (hence why it's good for mornings, as it doesn't require the same removing power as a heavier cleansing balm) that contains Vitamin E and jojoba oil alongside water-activated Vitamin C. I like it because it doubles up as a treatment - after massaging you can leave it on your skin for up to 10 minutes depending on sensitivity. Whenever I do this my skin looks visibly brightened and feels uber-clean and fresh (but not stripped). There are a couple of other great cleansers containing Vitamin C in my film if you want to take a look (watch it here) - the Boscia (good for blemish-prone skin because of the added salicylic acid), Ole Henriksen (great for dry skin) and Nude (as close to a Berocca for your face as you can get!) cleansers I talk about are all fantastic, although the brightening effect is limited as these cleansers don't stay on for longer than a couple of minutes. Available here.
The Eye Cream - Murad Essential C Eye Cream
I often recommend this eye cream to clients with dark under eye circles caused by pigmentation (so brown as opposed to red/purple), as it's got Vitamin C (to brighten), titanium dioxide (which can help to refract light) and caffeine (great for reducing puffiness around the eyes), as well as UVA and UVB protection - so use it in the morning rather than at night. It also contains retinol, which can help to strengthen the skin around the eyes (reducing the appearance of fine lines), so if you haven't used it before start by applying a couple of times a week to check sensitivity and build up your tolerance. Available here.
The Treatment - Odacité Dull Skin Concentrate
I don't normally use face oils personally, but I've been enjoying using this recently. It's not too heavy, more of a serumy-oil, with a very simple three ingredients list - cold-pressed passion fruit and sweet orange oils (both of which are high in Vitamin C) alongside vitamin E. Yes, the bottle is teeny tiny but you only need a teeny tiny amount (one or two drops). You can either use it as a 'treatment course', applying twice a day every day for a month, or do as I do and apply daily for a week when your skin's looking particularly dull. Application-wise, you can apply directly on clean skin but I prefer to mix a couple of drops into another serum or moisturiser, whatever I'm using that day (you can also add it to your foundation). It definitely leaves my skin looking noticeably glowier whenever I use it, and the formula feels very nurturing and 'cocooning'. I also love the medicinal looking bottle, which apparently is made from a special UV filtered glass to keep the formula active for longer. Available here.
The Supplement - Pukka Natural Vitamin C
Unless you're like Jessie who eats two or three massive oranges a day haha, you might want to take a Vitamin C supplement if you're feeling deficient. I know that there are people who dismiss who the idea and effectiveness of supplements, but my feeling is that with a vitamin like Vitamin C, because your body will naturally flush out any excess, it won't do you any harm to top up. And aside from the skin perks, Vitamin C has a huge tick list of other body benefits - it supports your immune and nervous systems, improves blood flow and iron absorption, boosts energy and can help prevent eye and heart disease. When buying vitamins always go for a reputable brand - I like Pukka Natural Vitamin C, which has 250mg of organically-derived Vitamin C (from acerola (cherry), amla (gooseberry), lemon and rosehip) per serving - the RDA is around 80mg. Some experts believe that naturally derived supplements like these have a higher level of absorption than synthetic supplements, as your body recognises them as nutrients... but if you're not convinced, another brand I rate is Vitabiotics - their Ultra Vitamin C supplements contain 500mg of Vitamin C alongside 25mg of citrus bioflavonoids, antioxidants which are thought to aid absorption. Available here.
Once you've gone to the trouble of religiously applying Vitamin C, remember that sunlight can reactivate old pigmentation (this has happened to me!), so don't forget to use SPF daily. Watch my latest sunscreen film for some SPF recommendations below - Avène Hydrance Optimale UV Light SPF20 (or UV Rich SPF20 if your skin is dry) is a good sunscreen for every day (and also great for sensitive skin). You can also read more about the other effective, non-prescription brightening ingredients I rate in my blog post here.
If you use Vitamin C, I'd love to know which products you like - let me know in the comments. X