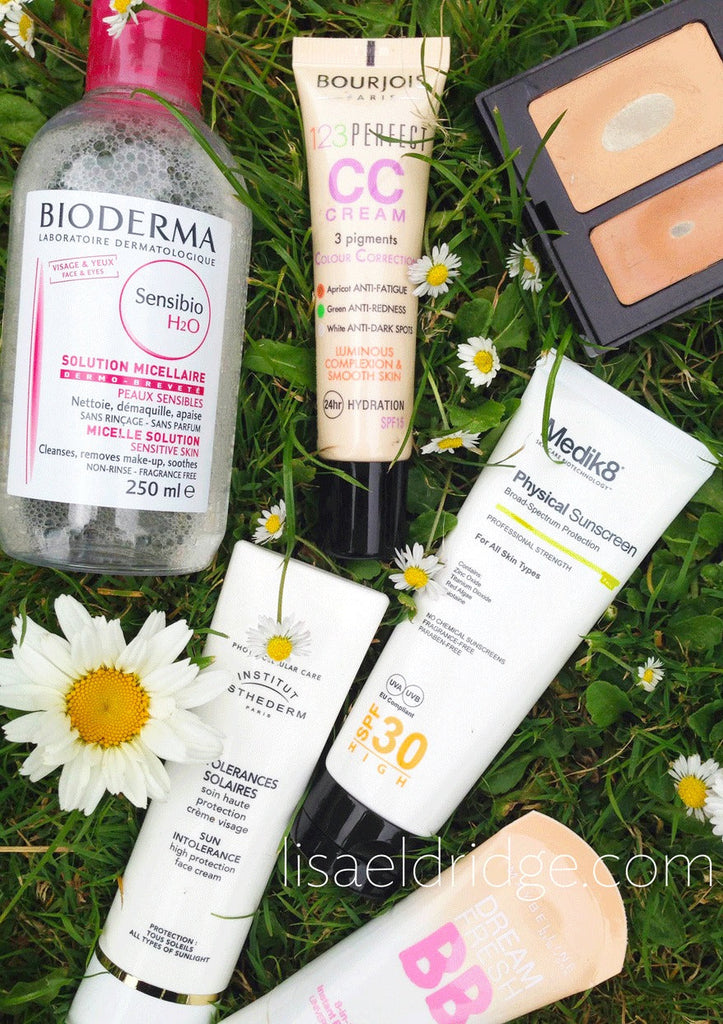 A Few of My Festival Beauty Essentials
With the festival season just around the corner, I thought it was the perfect time to share a few festival beauty favourites.
You don't want to turn up with an enormous suitcase of beauty kit (after all, we are trying to give off an air of laid back, low maintenance here!) so be extra selective and go for small sized multi-tasking essentials. Choose products that will get through the rain (a likely occurrence if you're heading to a field in the UK) or a full day of dancing in the heat!
1. SPF

When you're going to be spending most of the day outside, SPF is a must (even if the weather forecast is cloudy). Choose a product that suits your skin type as some products can be quite greasy whilst others have a drier finish. For extremely sun sensitive skin, I like Institut Esthederm's High Protection Face Cream or for a cheaper alternative Avene's Very High Protection Mineral Cream is great. Riemann's P20 has a non greasy formula and one that lasts all day (although be sensible and reapply if the sun is hot or if you're fair skinned). My current favourite for oily/blemish prone skin is Medik 8's Physical Sunscreen as it has a completely matte finish that lasts.
BB and CC creams with SPF are also good for protection and coverage (don't use instead of SPF in hot weather though). I've been using Bourjois' CC Cream a lot recently as it gives pretty good coverage but looks natural and healthy, or Maybelline's Dream Fresh BB Cream is also good and has SPF 30.
2. Cleansing

If having a shower or washing your face is going to be impossible, it's a good idea to pack a mini bottle of cleansing water like Bioderma Sensibio H20 – it's effective enough to remove waterproof mascara and will make your face feel clean without having to step near a sink. Try to remove your make-up no matter what time you end up rolling back to your tent! Although I'm usually not a fan of wipes and would never use them to remove make-up, I do think they are super handy for festivals for cleaning and freshening hands and underarms etc. Cheap and cheerful is best.
3. Touch Ups

If you need more coverage or want to cover up under eye circles, blemishes or redness, you could pack a handy concealer compact, my go product and one that could fit in your back pocket and has a mirror is Laura Mercier's Secret Camouflage.
4. Colour
Cheat making yourself look instantly fresh and more alive by using a multi-purpose lip and cheek tint, that'll emphasise a dewy outdoorsy glow and can be easily topped up throughout the day if needed. Compacts like Bobbi Brown's Pot Rouge (Top left Raspberry/ Bottom right Pale Pink), Chanel (Bottom Left Inspiration / Top Right Fantastic) and Bourjois Creme Blush can be slotted into pockets, are easy to apply and come with a built in mirror.
5. Eyes
For eyes with staying power make sure you pack a waterproof mascara – I rate Dior's Dior Show Waterproof Mascara for an instantly dramatic effect or Urban Decay's Cannonball is also great. Waterproof eyeliners like Lancome's Khol Hypnose and Chantecaille 24-hour Waterproof Eye Liners are also great as they last ages and take up next to no room in your bag. Plus the soft textures make them perfect for smudging into lash lines for a super speedy smoky eye that'll only look better as the day goes on.
6. Festival Fun
Finally, festival make-up wouldn't be festival-worthy without a touch of something fun. I like hints of glitter - Urban Decay's glitter eyeliners are brilliant and much easier to carry than pots that can go everywhere. Or, try a fun nail, white polish is huge at the moment and looks great against tanned skin - just make sure you apply two thin coats, a gloppy application will look like you've Tippex-ed your nails! Nails Inc's Floral Street is great. Or, try a coat of Illamasqua's UV Glow Nail Varnish in Geist over your usual polish – it's a clear top coat that makes your colour glow under UV lights.
For more inspiration, have a look at two of my latest festival-inspired tutorials. One is an easy, summery look that's long-lasting and gets better with time (in fact, even if you sleep it in it'll still look good the next morning) and the other is a more editorial, 60s-inspired 'Flower Child' look based on the look I did on Lara Stone for Antidote magazine (see the final photo in my gallery here). For this look I used Ciate's Flower Manicure - mini flower stick-ons which obviously look great on nails but are also a fun way to decorate your face!
If you're heading to a festival this summer let me know what you're planning on packing – and have fun!