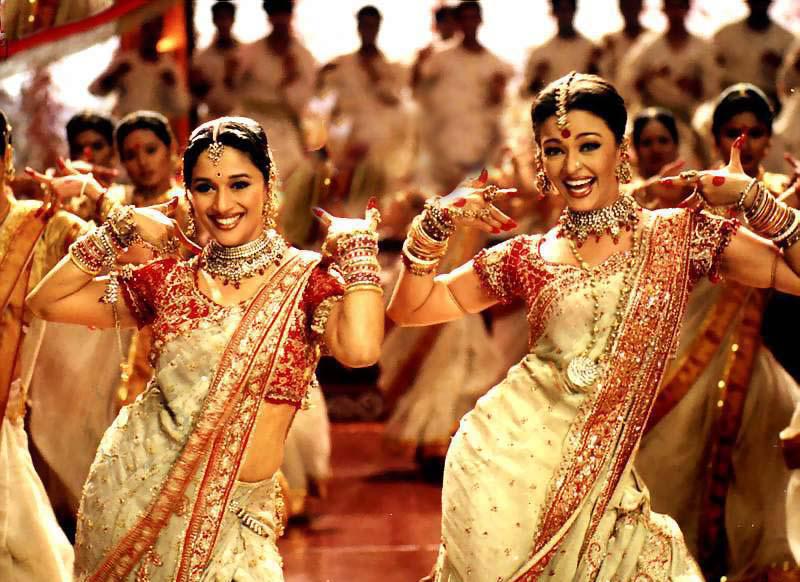 100 Years of Bollywood Beauties
Being aware of all the key references in film, art and literature is a huge part of my job as a make-up artist. I happened to notice that this year is the 100th anniversary of the Mumbai based Hindi language cinema known as Bollywood, one of the most prolific film industries in the world. The very first film screened in India was the silent black and white classic, Raja Harishchandra (1913). Just 40 minutes long, there were only a few female characters, and all the roles were played by men. It was a world apart from the riotously glitzy, all-singing-all-dancing Bollywood blockbusters of today, many of which are at least three to four hours long!
Stylistically, the 50s, 60s and 70s were considered to be the "golden age" of Bollywood cinema. Films like Awaara, directed by Raj Kapoor in 1951, and starring legendary actress, Nargis Dutt, who was considered to be one of the greatest actresses in Indian cinema, became internationally famous, with many fans in China – it was Chairman Mao's favourite film – Russia (where 63 million people saw it) and Turkey. I particularly love (from a make-up point of view!) the scene where Nargis' character, Rita, wears an amazing moon-shaped bindi (see the black and white picture below)
The 70s heralded one of Bollywood's biggest ever hits, Pakeezah (1972), starring Meena Kumari (born Mahjabeen Bano), who became known as "The Queen of Tragedy" in both real life and on screen. A poet and actress considered to be one of the greatest in Bollywood, past and present, she was also breathtakingly beautiful (see her in all her splendor above). Pakeezah, which took a record 14 years to film, as Kumari and its director, Kamal Amrohi, had fallen in and out of love during the filming, turned out to be a massive success.
But it's the modern classic Devdas, that is the biggest movie in Indian history and a firm favourite of mine. Not only was it the first Bollywood film to be nominated for a British Bafta and receive a special screening at the Cannes Film Festival in 2002 when it was released, it also broke box-office records in India and the US. Costing 500 million rupees to make, Devdas, based on a 1917 Indian novel, stars Bollywood beauties, Aishwarya Rai as "Paro" Parvati Chakraborty and Madhuri Dixit as Chandramukhi. The film's success is not only down to the extravagant sets, gorgeous costumes and amazing camera work, but owes much of its popularity to the exuberant dance performances, with Dixit's "Maar Daala" considered one of the most iconic of her career, and the hit song "Dola Re Dola" with its fabulous dance duet (I SO want to learn all the moves in this one!) featuring Rai and Dixit - I think this is the Bollywood equivalent of Beyoncé's Single Ladies! An epic story of a courtesan and a virgin based on an 1917 novel, the 2002 version is one of 6 adaptations that have been made of this cinematic classic. Despite its tragic story I dare anyone to not be blown away and exhilarated by the lavish costumes, glamorous leading ladies, intricate make-up and traditions and oh so catchy numbers.
There is one thing I'm really not digging about Bollywood however - As a make-up artist and a women myself I was more than a little peturbed to discover the challenges that female make-up artists face in India.  There is quite a bit of controversy around the licencing granted to women by the Cine Costume And Make-Up Artistes Association (CCMAA) union. Apparently, no female make-up artist has been granted an artiste's card – which allows MUAs to work legitimately on Bollywoods film sets - since the CCMAA was established in 1955. I read that the initial thinking behind the rule was that a woman wouldnt be capable of making up another woman without feeling jealous and threstened by her beauty and therefore try to sabotage it by not doing a good job! I found this article when researching the issue:  I'd love to know more – do get in touch if you can shed any light on being a female make-up artist  working on film sets in Bollywood. 

To celebrate, I thought I would do a Bollywood make-up tribute video, with a look inspired by some of the most iconic Bollywood beauties from the last century. I've created my own interpretation of a make-up look taken from the film Devdas, which you'll be able to see here tomorrow. So until tomorrow Phir Milenge!